I should be receiving the two that I ordered today, I will update this post once I have set them up and played around with them tonight!
Update: One indeed arrived at least. New smaller box, no shrink-wrap. Very familiar looking remote, just the change to USB-C for recharging. The Apple TV itself feels a fair bit lighter and the dimensions are slightly smaller, luckily the mount behind my TV still holds it fine for now.
The onboarding process is a little slicker in tvOS 16, straight forward and gets you up and running very quickly if you choose the option of holding an iPhone near it to save entering in the tedious details…
To be honest I don't see a massive difference in how it runs, but that is about what I was expecting. The chip driving the show has gone from an A12 to an A15 - so that's like going from an iPhone XS to an iPhone 13 Pro I believe. Also, this model supports HDR10 now. So, things do feel snappier, and the colours look a little better - how much of that is purely psychological I don't know :P
All in all, most people won't be upgrading from last years one anyway, so if you have one from a couple of generations back, it'll be a much bigger jump.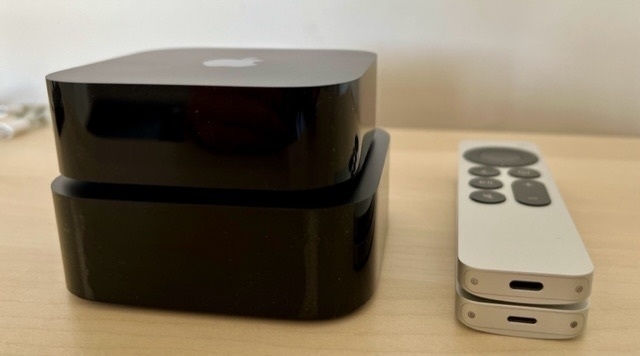 Currently listening: Neu! - "Für Immer"