I have been playing around - sorry, "making legitimate technical notes of", I mean - the capabilities of my new iPhone 15 Pro over the last week, specifically with regards to the switch to USB-C.
Amongst the things I have tried is the YubiKey with USB-C and NFC (the "YubiKey 5C NFC") and it worked as expected, in fact I'd personally say it is easier to use via USB-C, I always found the positioning with NFC to be a bit finicky, even after removing my iPhone from a case.
I tried a Satechi dock (the "Aluminum Type-C Mobile Pro Hub" I believe) intended for the iPad Pro which has USB-C / USB-A / HDMI / Audio out, and I was able pass-through charge via USB-C, use a keyboard via USB-A, output to a monitor via HDMI, and connect wired headphones via the Audio out. Everything worked!
Then I tried a Belkin USB-C to Ethernet (Model: F2CU040), which worked, and an Apple Thunderbolt 3 to Thunderbolt 2 adapter so I could connect an Apple Thunderbolt to Ethernet, but the iPhone came up with the following error when I connected the Thunderbolt adapter: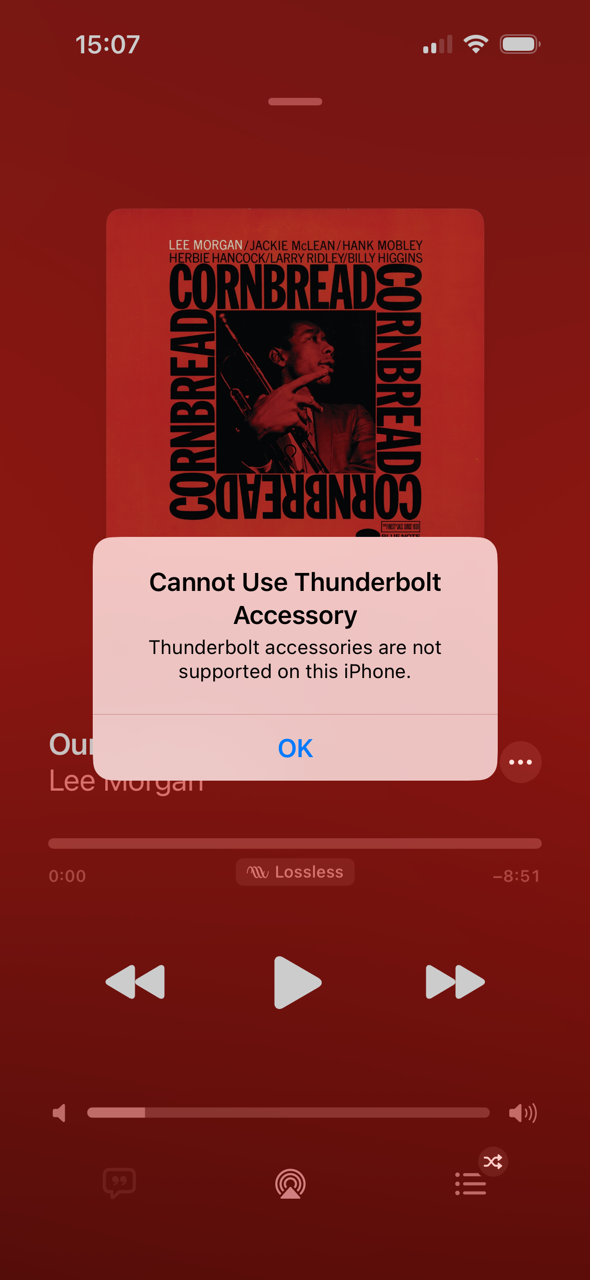 Currently listening: atmospheric drum and bass mix - (Ambient, Jungle, DNB, VGM)